Dans cette bibliographie ne sont pas incluses les publications de nature secondaire, donc redondantes et/où figurent des œuvres dont l'attribution est mise en question.
Bibliographie essentielle
A. Textes d'Alexandra Exter
Vystavka kartin kievskih hudozhnikov (Une exposition de tableaux des peintres de Kiev)
in Kievskaja nedelja, n° 4, Kiev, 1912 .
Vystavka dekoratyvnyh risunkov E. Pribylskoj i G. Sobachko, (L'exposition des dessins décoratifs de E. Prybilskaja et G. Sobacko, Kiev, le 31.3.1918)
in Teatral'naja zizn (La vie théâtrale), Kiev, 1918, n° 9, p. 18.
Hudozhnik v teatre (Le peintre au théâtre, interview de F. Hossiason avec A. Exter) in Odesskij listok n° 130, Odessa, le 23.11.1919, p. 4.
V konstruktivnoj odezhde (Dans un vêtement constructif)
in Atel'er, Moscou, 1923, n° 1, p. 4-5.
Prostota i praktychnost' v odezhde (La simplicité et la commodité d'un vêtement)
in Krasnaja niva, Moscou, 1923, n° 21, p. 31.
V poiskah novoj odezhdy (À la recherche d'un nouveau vêtement)
in catalogue Vserossijskaja vystavka n° 2 (exposition pan-russe n° 2), Moscou, 1923, p. 16-18.
Traduction d'un article de Roger Allard, « Novoe vo francuzskoj zivopisi » (Les nouvelles tendances dans la peinture française)
in Iskustvo, Kiev, 1912, n° 1-2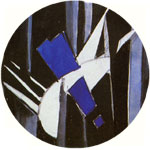 B. Publications illustrées par Alexandra Exter
Olga Forch
Rycar' z Njurinberga (Le chevalier de Nuremberg), Saint Petersbourg, 1908.
David Burljuk
Moloko kobylic (Le lait des juments, anthologie futuriste édité par David Buljuk), éd. Gileja (Hylee), Herson, 1914.
B. Livshitz
Vol'cee solnce (Le soleil des loups, poèmes), 1914.
Ivan Aksënov
Neuvazhatel'nye osnovanija (Les fondations irrespectueuses), Moscou, éd. Centryfuga, 1916, tirage 200 exemplaires. L'ouvrage contient deux eaux-fortes d'A. Exter.
Pikasso i okrestnosti (Picasso et les alentours), Moscou, 1917
(couverture d'A. Exter, réalisée en 1914).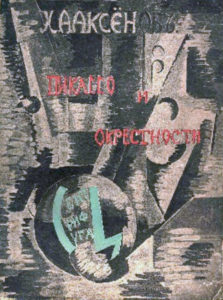 Germes (Hermès) anthologie n° 1 (unique parution), Kiev, 1919.
Projet de couverture pour l'anthologie du même nom, aquarelle et encre de Chine sur papier, Kiev 1918, Archives Exter.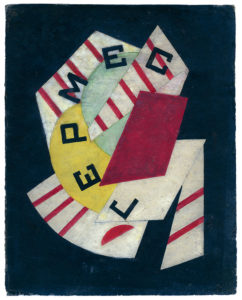 Tairov, Alexander
Zapiski rezhisëra (Notes d'un metteur en scène), Moscou, 1921.
Tugendhol'd, Jakov
Iskusstvo Dega/ Edgar Dega i ego iskusstvo (L'art de Degas), Moscou, 1922, couverture par A. Exter.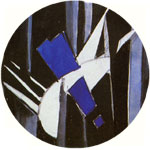 C. Choix de textes consacrés à Alexandra Exter
Bowlt, John E.
Introduction au catalogue d'exp. Alexandra Exter, Marionnettes, L. Hutton Galleries, New York, 1975.
Efros, A.
Kamernyj teatr i ego hudozhniki 1914-1934 (Le Théâtre de Chambre et ses peintres, 1914-1934), Moscou, 1934.
Giljarovskaja, N.V.
Teatral'no dekoracionnoe iskusstvo za 5 let (L'art de la décoration théâtre des 5 dernières années), Kazan, 1924.
Gregor, Joseph et René Fulöp-Miller
Das Russische Theater, Wien 1927-Zurich (1928, éd. en langue anglaise, Philadelphia, 1930).
Kolesnikov, Mikhail
Aleksandra Ekster : ot impressionizma k konstruktivizmu (A. Exter : de l'impressionnisme au constructivisme, catalogue de l'exposition, Moscou, 1987), Moscou, 1988.
Koonen, A.
Stranicy zizni (Pages d'une vie, mémoires), Moscou, 1985.
Kovalenko, Georgij
Aleksandra Exter, Moscou, éd. Galart, 1993 (Suite à l'exposition de 1987 cet ouvrage fut préparé par Mikhail Kolesnikov, alors conservateur du musée Bakhrouchine, mais publié en son absence, ce qui explique probablement certaines erreurs d'attribution).
Aleksandra Ekster v Odesse in Iskusstvoznanie 2/99, M. 1999 str. 421.
Lissim, Simon
Alexandra Exter in Mobilier et Décoration, Paris, septembre 1930, p. 108-112, ill.
Alexandra Exter et le décor lumineux in Beaux-Arts, Paris le 6.9.1931, (abn)
Alexandra Exter in Encyclopaedia dello Spettacolo, vol.IV, Roma 1957, p.1734-1735
Alexandra Exter as I knew her in catalogue, New York, 1974, p. 16-22. Version russe « Vospominanija ob Aleksandre Exter » (Souvenirs d'A. Exter) in Novoe Russkoe Slovo, New York, le 28.4.1974
Livchitz, B.
Polutoraglazyj strelec (L'archer à un œil et demi, mémoires romancés), Leningrad,1933, trad. fr. éd. L'Age d'homme, Lausanne 1973.
Lobanov-Rostovskij, Nikita D.
Russian Painters and the Stage in Zapiski russkoj akademiceskoj gruppy v S.S.A, (Notes du groupe académique russe aux USA) vol. II, New York, 1969. Repris in catalogue, New York, 1974. Repris « Po sledam hudozhnika » (Sur les traces du peintre) in Ogonëk, n° 4, Moscou, 1988.
Low, A.
Alexandra Exter's : Theatrical Constructivism in The Nelson Atkins Museum of Art Bulletin vol. V, n° 7, October, 1982.
Lozowick, L.
Alexandra Exter's Marionettes in Theatre Arts Monthly, New York, vol. XII, n° 7, July 1928, p. 515- 517.
Nakov, Andréi
Alexandra Exter, Paris, 1972
« Painting and Stage design : a creative dialogue » in Alexandra Exter, Artist of the Theatre, catalogue d'exp. New York Public Library at Lincoln Center, New York, 1974, p. 9-15
Abstrait/Concret, art non objectif russe et polonais, Paris, 1981 (chap. 18 consacré à Exter, p. 175-182) trad. russe Bespredmetnyj mir, Moscou, 1997
A Modern-day Modello : On Three Figurines by Alexandra Exter in Elvehjem Museum of Art Bulletin, Annual Report 1991-1993, University of Wisconsin, Madison, USA, 1994, p. 69-81.
Nijinska, Bronislava
A Dancer's legacy, catalogue d'exposition par Nancy Van Norman Baer, The Fine Arts Museum of San Francisco, San Francisco, 1986.
Early Memoirs, Holt, Reinhart and Winston, New York, 1981.
Soffici, A.
Fine di un mondo, Autoritrato d'artista italiano nel quadro del suo tempo, vol. IV Virilità, (mémoires) ed. Vallecchi, Florence, 1931, repris in vol. VII de Opere, Florence, 1968.
Tairov, Alexander
Zapiski rezhisëra (Notes d'un metteur en scène), Moscou, 1921 (avec illustrations de A. Exter). Trad. all., Berlin, 1923
Préface à l'album de pochoirs Alexandra Exter-maquettes de théâtre, Paris, 1930
Tugendhol'd, Jakov
Aleksandra Ekster kak zhivopisec i hudozhnik sceny (Alexandra Exter, peintre et décorateur de la scène théâtrale), Berlin, 1922, éd. Zarja, éditions en russe, anglais, allemand et français.
Prazdnik arhitektury (Une fête de l'architecture) in Izvestija n° 197, Moscou, le 2.11.1923
Kobmundirovanii Krasnoj Armii (Au sujet des – nouvelles – uniformes de l'Armée Rouge) in Krasnaja Niva, Moscou, 1923, n° 9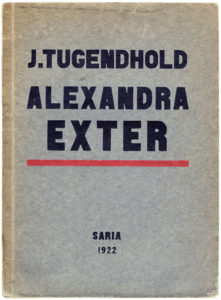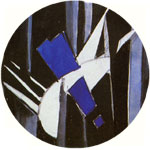 Catalogues de référence
♦ Artist of the Theatre – Alexandra Exter, The New York Public Library, Lincoln Center, New York, Spring-summer 1974.
Textes de Simon Lissim, Nikita Lobanov, Andréi Nakov, Donald Oenslager.
♦ Aleksandra Ekster : ot impressionizma k konstruktivizmu (Aleksandra Exter : de l'impressionnisme au constructivisme, catalogue de l'exposition Moscou 1987, Moscou 1988. Texte de Mikhail Kolesnikov.
♦ Aleksandra Exter – eskizy, dekoracij i kostjumov iz sobranija GCTM im.A.A.Bahrushina (A. Exter – esquisses de costumes et de décors dans la collection du musée théâtral Bakhrushin), catalogue rédigé par E. P. Tomilovskaja avec E. N. Andreeva, T. B. Klim et A. V. Smirnova, Moscou, 1986.
Note : à ce jour, seul catalogue d'une collection muséale – la plus importante – d'A. Exter.